WARNING !!!!

the picture below show the first project drawing a way for me to guess
what control I'll put on this dialog IT'S NOT FINISHED IN ANY WAY IT MAY LOOK
COMPLETELY DIFFERENT IN FINAL....
[EDIT] Dialog finished , see last post
This dialog will clear my idea of how I'll do things, then I'll start to make
the calculus function that I'll need , than I'll redo this dialog... (it's my common way of work)
So with this dialog you'll fix your company's price politic, it will determine
how your reputation and income will evolve and so how much passengers will take your flight
- in economicall mode -
You'll be able to choose preset (low cost company -normal company - luxe company etc etc)
or set directly the prices...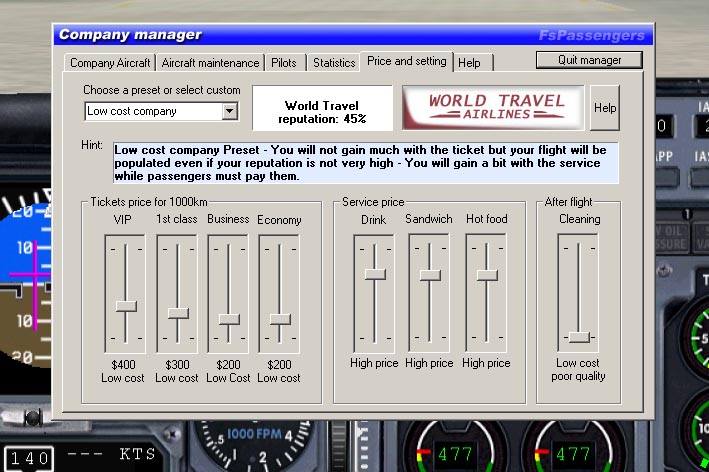 An example - if you set high ticket price and high service price (drink etc etc) your passengers
will be disatisfied. With high price ticket the service must be free (but of course it will cost you money)
You will be able to have many financial politics for exemple you can lose money
during a time to raise your reputation (low ticket price, free service, high cleaning cost)
Or get the maximum cash if your reputation is high (high ticket, high service price low cost cleaning)
but in this case your reputation will quicly degrade...
in all things balance

Comment ? suggestion ? question ?
Dan
Post Edited ( 03-23-05 04:06 )