For the demo KCCR war area in San Francisco, FsPassengers will ask if you want to activate or deactivate it the first time you enter into this war zone.
For other war zones in the world:
1.
Open the FsPassengers folder
2. Open Config/WarArea folder and edit the .cfg file with Notepad.
3. You can use the map utility located in "Ui\maphires\FsPMapHiRes.exe" to instantly show your
change as the map utility can also show the dangerous areas.
If you want to create a completely new "war" scenario just create a new .cfg file in this folder,
it will be read along with the others.
Do you want to know more about War/Dangerous zones?
Go to FsPassengers Menu select "Dangerous Area Database" and click the "Help" button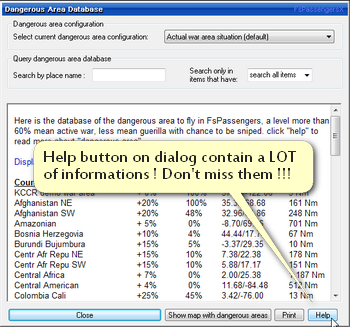 See also:
Can I modify my company setting after creation?
I don't like the income 50x modifier, can I change that?
How to Create a Company with Advanced settings