FsPassengers rquires at least one notch of flaps to be set at take-off (many aircraft need between 1 or 3 notches of flaps at take-off in reality) and at least
one notch at landing.
The check is performed just after take-off below 200 feet and just after landing.
Things to remember: Set at least one notch before take-off and keep them on until 200 feet, and before landing have at least one notch.
On some rare aircraft such as the Cessna 172, flaps at take-off is not an obligation. To workaround the FsPassengers penalties you have two solutions:
1. Per aircraft disable flap penalty (recommended)
When starting a flight, click on "flight & aircraft setting" and disable the flap penalty: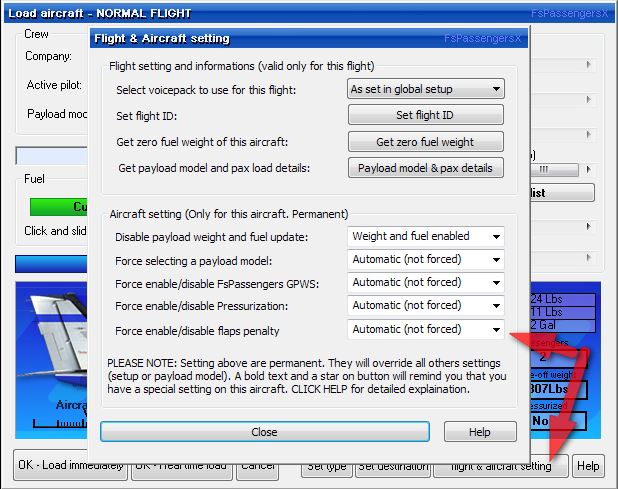 2. Global disable flap penalty
Browse to the FsPassengers folder
, then open the "more_option.cfg" file with Notepad and edit this line as below:
"DisableFlapCheck =1; // disable flap penalty"
Related questions:
How to find/open the FsPassengers folder
I have unfair penalties, how can I disable them?
♦ Related aviation information: ♦
NTSB full report of Spanair flight JK5022 crash
(failed to set flaps at take-off 154 fatalities)
Crash of Flight LAPA 3142
(failed to set flaps at take-off 65 fatalities)