The first thing to do if FSX crashes to desktop (CTD) is to
Download
the latest version of FsPassengers and Install it again!
Explication:
In 2016 a solution was found for the 0xc00000005 crash that affects many add-ons mainly on Windows 8 and 10,
Windows wrongly sets a compatibility registry key
that leads to an application crash.
Since 2016, the new version of the installer detects this key and removes it automatically: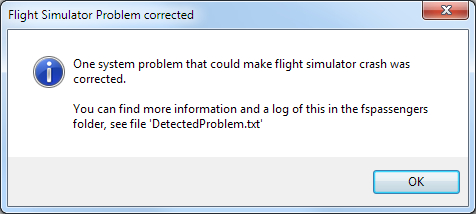 If this does not solve your problem
---
Our flight simulators are very open to any addon or modification and tend to be very sensitive,
first ensure that it's really FsPassengers' fault.
I cannot guess what is happening on your computer so I need a maximum amount of information to solve the problem:
1. I need the exact text of the error (or a Picture of it)
2. Exact circumstance when the CTD happen (purchasing aircraft, in flight, climb descent, etc.)
3. All the logs:
How to get the logs
--------------------
1.
Search the Windows Event Log for the details of the application crash.
2. Launch FSX, and do the action that causes it to crash
3.
Open the FsPassengers folder
4. Inside this folder there are two files: 'FsfsxInstall.log' and 'log.txt'
5. Attach those files to the mail or open both with Notepad and paste their content to the forum.
If you use mail: Attach the files along with your screen-shots, error text, and all of the information you have about the problem.
Otherwise post them in the forum.