FsPassengers 2004 Frequently Asked Questions
Hit back button or click Here to see the FAQ index.
How to find/open the FsPassengers folder
A lot of things can be tuned, edited, and added in FsPassengers. For this you may need to go to the FsPassengers folder.
Click the Windows 'Start' button and browse to 'FsPassengers 2004' and click on 'Open FsPassengers 2004 folder'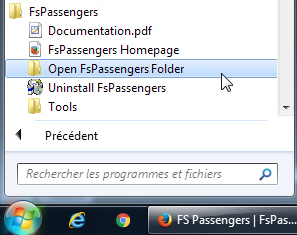 You can also open it in-game, in FS9: goto "FsPassengers Utilities->Open FsPassengers folder"