------------------------------------------------------------------------------
Latest news
------------------------------------------------------------------------------
Screenshot session...  

Four days to redo completely the "prices" tab  

Was a hell to do, I hate Laffer now

(Laffer is an economist)
But I've redone almost all the economics / pax advice to be much more
realistic
BUT
simple
to use.
Before this update the luxe/low cost company had no really meaning, now the quality and prices of service are taken in account by passengers for the ticket price. (Even if they don't consume products)
Let's see an example:
VIP Passengers think that $1100 for tickets is a "good price" granted that services are free and with an excellent quality, and they will have a positive opinion at the end of the flight (company reputation)
Now if you lower the
product quality
slider of VIP products (they will cost you less), evaluation texts change in real time.
With a lower quality of services, the $1100 ticket is now evaluated as "normal" (neutral opinion)
(Note: the "Market Studies" is for the VIP services: drink, sandwiches, food, because we are moving the products quality slider)
...And if you make them also
pay the service
, you can see that pax would be
angry
in the advice about the "quality-price of sandwiches (because we move this slider), and the
same
tickets price is now evaluated as "very high", they will have a negative opinion of ticket's prices at the end of flight, just because they have to pay sandwiches that have a lower quality.
high ticket price + high service price with a "normal" quality =

this sound logic.
With this new economic model, being a "low cost company" with paying service or a "luxe company" with free products have a real meaning.
Also you have a total control of what you want: boost the company reputation OR the income, or pax occupation, or a mix.
You can even accept to loose money to give an extra boost to your company reputation OR steal passengers money at the expense of your company reputation. (I recall that your company's reputation as well as number of flights made from one airport are taken in account for the number of pax that want to take your flight)
Here, you have the "ticket price advice" because we move this slider, you see your total income, the number of empty seats and the passengers evaluation.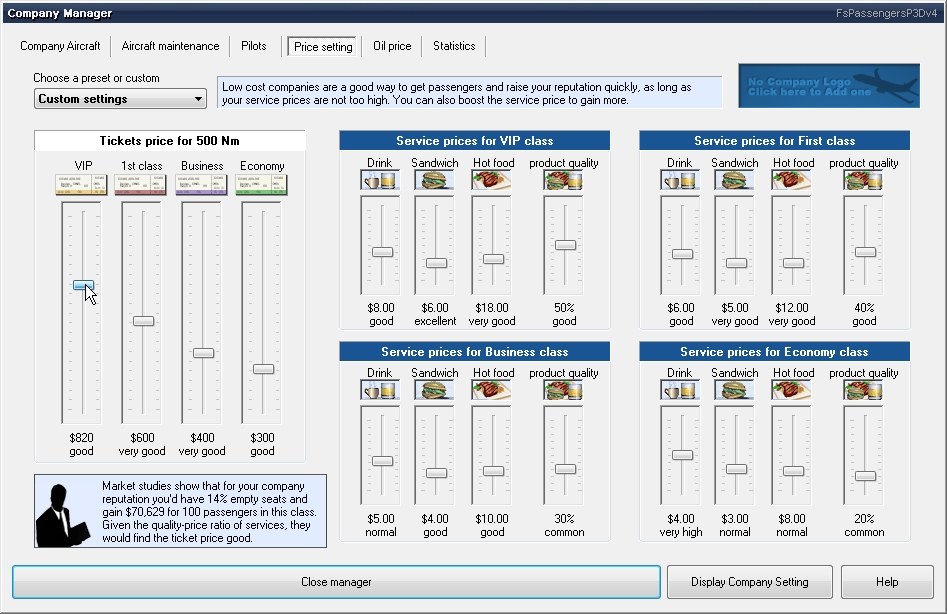 Of course you'll have preset for those that aren't interested in price tuning.
And I wonder if I'll not add some presets like this :
Luxe company - boost reputation (less pax)
Luxe company - mixed (less pax)
Luxe company - boost income  (less pax)
Normal company  - boost reputation
Normal company  - mixed
Normal company  - boost income
Low cost company  - boost reputation (more pax)
Low cost company  - mixed (more pax)
Low cost company  - boost income  (more pax)
I have 2-3 days more work to control that everything is correct, make preset, take every case in account ("tour" or "acrobatic" flights) etc. etc.