If you purchased on SimMarket.com
SimMarket.com doesn't send unlock codes by mail for security concerns. Your code is in your account at SimMarket.
http://www.simmarket.com
Connect to your account.
On the right tab click 'My Order'.
Click on the
date
next to your order.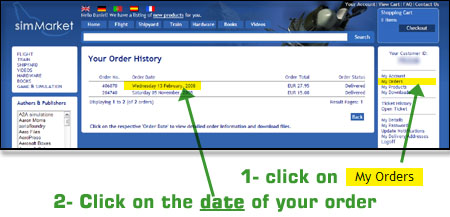 A new page will appear with your order details and the code displayed in a frame below text '
- Reg/Serial/Voucher Key/Number:
'
If you purchased on FlightSimStore.com
FlightSimStore.com sends a mail with the unlock code but it's possible that the mail was intercepted by an anti-spam filter, please check your spam folder.
If you don't find it, simply connect to your account at
www.FlightSimStore.com
and you will find the unlock code.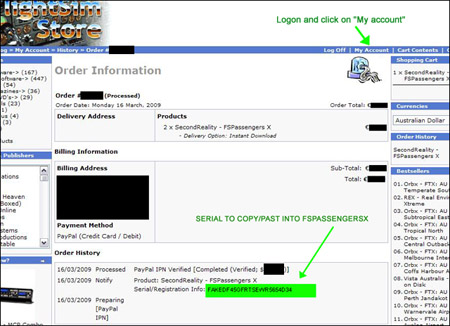 If you purchased from me via PayPal
I send the mail with the unlock code manually so it's not instantaneous. Most of the time only a few hours after your purchase.
I always send the mail to your PayPal email address, so think about it if you requested a rebate from another email.
The mail with the unlock code may be redirected to your spam folder so be sure to check it.
See
Is money tight for you? I can make an exceptional rebate